Think before you speak, and read before you think.
Note to self: "Think before you speak!"
I woke up really early this morning. Most mornings I wake up at 4:00 or 5:00am, however, this morning I was wide awake at 3:00am. So why not get up?
Most mornings, I turn on the lights in the kitchen, and make coffee. Then I read the Bible while the coffee is brewing, and while sipping that first cup of java. This is one of my favorite parts of the day.
Today was day 103 following the Four Streams reading plan. The Four Streams plan provides large chunks of scripture to read and chew on. So this morning I read Acts 4,5,6; Joshua 16,17; Psalm 87, and Proverbs 27. (Actually I listened to these chapters being read via the YouVersion app, while reading along.) So here's a few thoughts from this morning's readings:
"But many of those who heard the word believed..." from Acts 4
"Do not boast about tomorrow, for you do not know what a day will bring." ~ Prov. 27:1
"Know well the condition of your flocks, and give attention to your herds, for riches do not last forever…" ~ Prov. 27:23,24a (My flocks and herds are web servers and websites, and they need a lot of attention.)
Other Things I Read This Morning
Things I read that made me think…
Coffee Cup Christianity needs to end. It's lazy, unethical, and dangerous. It elevates our own meaning above God's and passes it off as divine writ. We don't read what our friends have written with such carelessness. Let's no longer do it with what God has written. You never open email (from a good friend), skip the first three paragraphs, and read just one line on the fourth page. No one, in fact, takes that approach with their email. If it's wrong to read your friend's email that way, then why do we read God's book that way?
Note: I read most of my email every morning by skimming the subject lines. I typically mark 60 to 80% as "read" and quickly archive, so it's no longer in my inbox — distracting me. Then I carefully read the emails from friends and clients. This made me think: Is God my friend?
Stir One Another Up to Faith and Good Works. If we focus too much on the apostasy all around us, my brethren, we can become very discouraged, therefore, as the writer of Hebrews says, "Let us hold firmly the confession of the hope without wavering, for trustworthy is the one who made the promise."
Going Through Grief with the Family of God. "A Grace Disguised" by Jerry Sittser is his journaling about his grief on the loss of his daughter, wife, and mother in a single car crash. The story is beyond sad. But the story has Christian hope in it as well. The book isn't a theology of suffering. It's more of a Christian journaling about his grief and letting the reader know what he learned through it.
How To Think Before You Tweet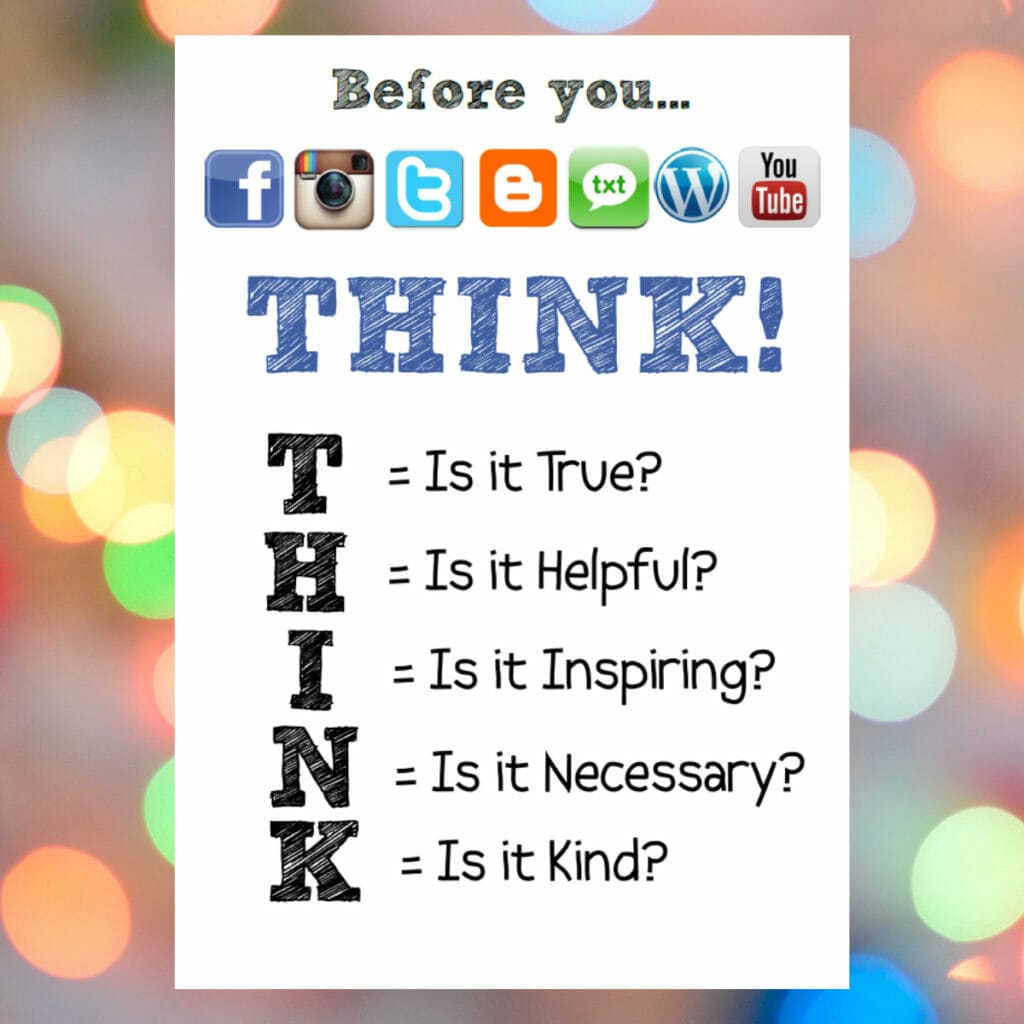 Think Before You Speak.
How to think before you speak. Ask yourself:
T = Is it True?
H = Is it Helpful?
I = Is it Inspiring?
N = Is it Necessary?
K= Is it Kind?
Sources and Related Links
Love, Joy, Balance – Think ~ Last viewed on 19-Nov-2020