Sands of Time Soliloquy – Background
What is this sands of time soliloquy about? Last week I was talking to myself on Facebook, about the phrase "sands of time", and more specifically "the sands of time are sinking". No one responded, so I made a few more comments on that thread myself. The Meta/Facebook algorithm is a fickle thing. Who can understand it?
A soliloquy is a speech that a character makes to themselves or to the audience (in drama or cinema), revealing their inner thoughts or feelings. At its most basic level, a soliloquy refers to the act of talking to oneself, and more specifically denotes the solo utterance of an actor in a drama. Shakespeare used this literary device in Hamlet and Macbeth.
"These are parts of plays that when performed help the reader better understand who the characters are and what it is that's driving them. Soliloquies can be powerful and pivotal moments in plays as someone's true motivations or intentions might be revealed." (PoemAnalysis.com)
So there I was, last Saturday, revealing my deepest inner thoughts on social media, yet feeling all alone.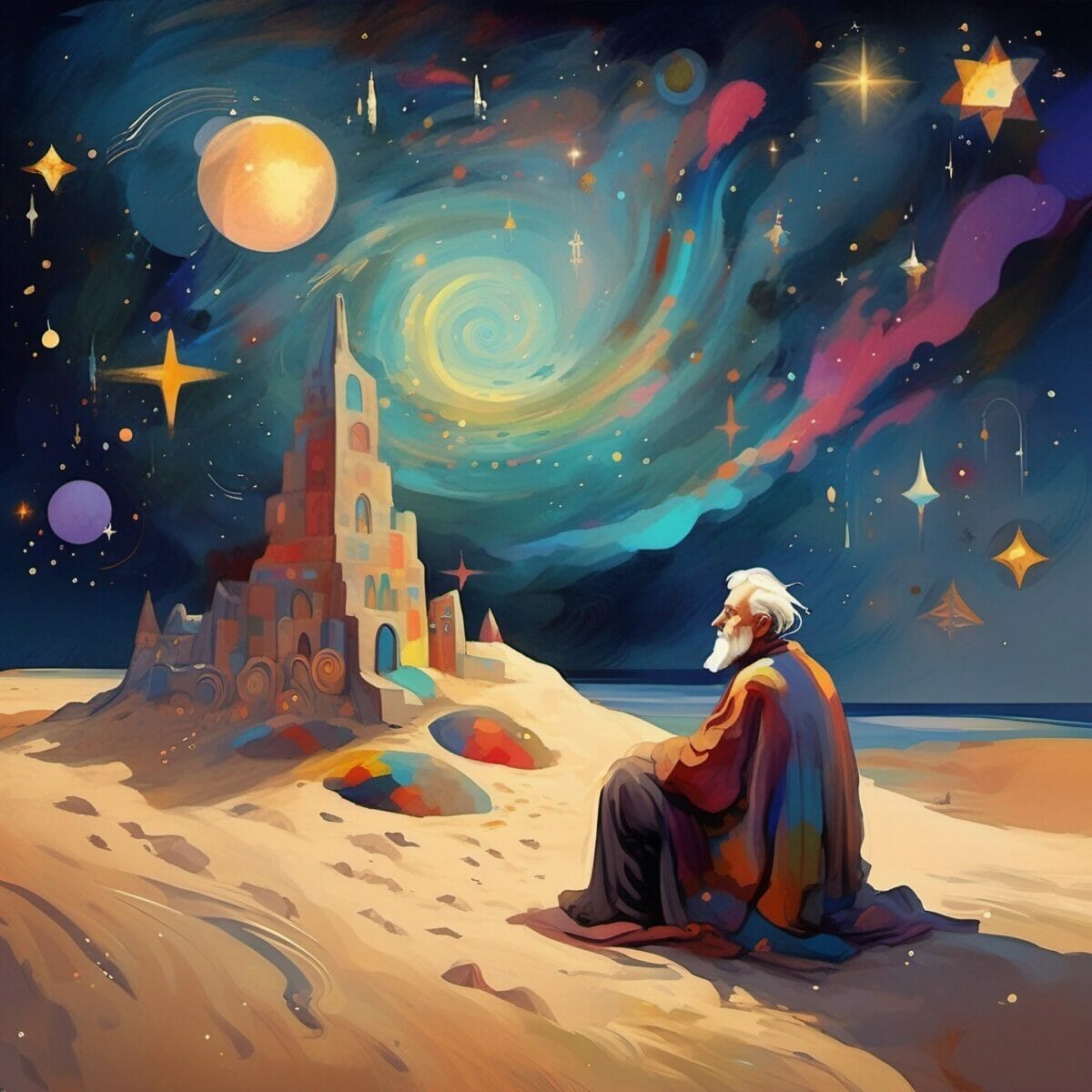 My Big Sandbox
As a 4 year old, I would spend hours each day playing in the sandbox behind our garage. It was a large sandbox, spanning the whole width of the garage, and was a big attraction for the neighborhood kids. If you know anything about children and sandboxes, the sand tends to migrate to other locations. At the end of the day, my mother would sit me down on the back porch, and help me unroll the cuffs of my pants. She would brush all that extra sand away, saying: "We don't want sand to fill up the house."
My father, the rocket engineer, had a truck load of sand dropped off — so we would never run out. Consequently, my imagination never ran out of ideas for things to build. We had shovels, bulldozers, and excavators. My brother and I were building a perfect world, and the neighborhood boys were helping. We experienced two or three of the best summers in the history of the world. Or so it seemed.
Sixty year later, I have a much bigger sandbox. I'm a better artist and architect, and I own powerful tools. The internet brings all the treasures of the universe to my basement office. Artificial Intelligence (AI) easily amplifies my imagination.
But, my brother died 24 years ago, and my childhood friends are gone with the wind. The summer of my life is over. I still want to build things, but realize my time is limited. The sands of time are sinking.
Sands of Time – Music For Meditation
There's more to say, but I will pause here, and let what I already said sink in.
---
See more articles and images about the Sands of Time.