"Imagine a world where the goal is finding happiness." This is the final line in a movie trailer for 'Finding Happiness'. But is the goal of life finding happiness? If so, how do you find it? Is finding happiness the most important goal in life?
The Westminster Shorter Catechism (1648) asks a similar question: What is the chief end of man? Answer: The chief end of man is to glorify God and enjoy him forever.
One summer (around 1975 or 76) I spent a couple months in the Virginia Beach and Norfolk, VA area. Pastor John Rickers of the Oceanview CRC told me something about happiness that stuck with me my whole life: "Happiness is when happenings happen to happen happily. Unhappiness is when happenings happen to happen unhappily. But joy is found deep within the heart of the Christian." In other words, happiness is often circumstantial, but joy is deeper. Which leads to another question: If bad things keep happening in my life, can I still be happy (or joyful)?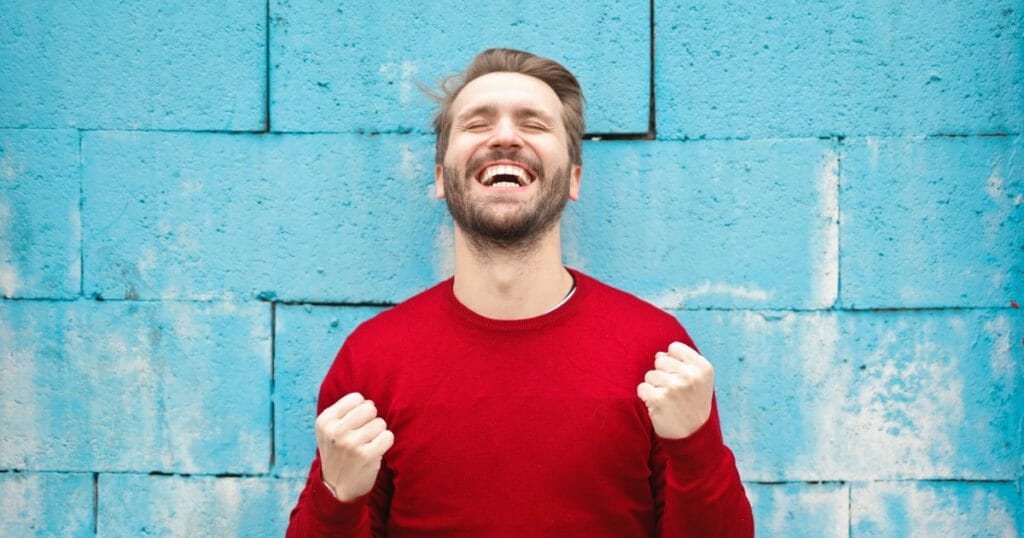 Blaise Pascal said: "All men seek happiness. This is without exception. Happiness is the motive of every action of every man — even of those who hang themselves." So who does not want to be happy? We all do, but wanting something is not the same as finding it. We all strive after happiness, but how many people actually find true, lasting happiness?
Defining Happiness
If you look up the definition of happiness, you might find: "the state of being happy". Or "happiness is used in the context of mental or emotional states, including positive or pleasant emotions ranging from contentment to intense joy." Happiness can also be described as feeling of contentment, well being, or satisfaction; a pleasant and contented mental state. Many of the European words for "happy" at first meant "lucky." In Welsh the word meant "wise."
However, a dictionary with all it's attempts at precise definitions cannot describe happiness any better than the music of birds singing at springtime.
A Movie Called 'Happy'
The 2012 documentary movie called 'Happy' explores the emotion of happiness. "The film takes us on a journey from the swamps of Louisiana to the slums of Kolkata in search of what really makes people happy."
A film critic (TeaBreak) describes the film this way: "Tom Shadyac, the director of the Nutty Professor read in a NY Times article that although the US was one of the richest countries it was nowhere near the happiest." Shadyac noted that "materially successful people he knew were often less happy than their gardeners". He commissioned director Roko Belic to make this movie — investigating what makes people happy. "Roko goes to Denmark, Namibia, Scotland, China, Kenya, Brazil, Japan, Bhutan and India and interviews a bunch of people." The result is quite interesting. "They start with a guy in India living in one of the worst slums. But he's about as happy as the average American."
The film asks: "What are the building blocks of a life that's just not free of illness, but one that flourishes with a deep and genuine happiness?"
Note: You can watch the 'Happy' movie online, and download a 71 page instructors guide for use in classroom situations.
Dr. Happiness
One of the psychologists interviewed for the film is Ed Diener, aka Dr. Happiness.
Diener said: "When I got into happiness research, it was 1981. It was not a popular field in psychology. People thought it was flaky… a professor said to me, 'you can never measure happiness'. Now, why they thought you could measure depression, which they were all doing, but you couldn't measure happiness, I'm not sure… And now it's absolutely amazing how many people are interested." There's even a new field of science called 'positive psychology,' which studies happiness.
Are You Happy? What is Happiness?
In the 1968 documentary film, Inquiring Nuns, two nuns walk around Chicago asking strangers simple questions about happiness. "Are you happy? Is everyone happy? What is happiness? What would make you happier?"
I borrowed this DVD from my local library and found it very interesting. As one reviewer states: "The nuns are open, sincere; without affectations of any kind … and this undoubtedly helps those interviewed to respond with candor and considered thought".
Factors That Contribute To Finding Happiness
Having a definite purpose and clear goals in life
Serving others, being generous, and showing compassion and kindness to those around you
A routine that includes daily physical exercise
Being surrounded with love by family and friends
Having a strong support network
---
A Counterintuitive Guide For Teenage Happiness
A teenager named Ruby LaRocca won The Free Press's 2023 high-school essay contest with her essay entitled: A Constitution for Teenage Happiness. Ruby says: "When people ask me why I sacrificed the sociable, slightly surreal daily life at my local school for the solitary life of a homeschooled student in 2021, I almost never reveal the reason: an absence of books."
The essay continues: "Reducing homework or gutting it of substance, taking away structure and accountability, and creating boundless space for 'student voices' feels more patronizing than supportive. The taut cable of high expectations has been slackened, and the result is the current mood: listlessness."
"Like human happiness, teenage happiness does not flourish when everyone has the freedom to live just as they please. Where there is neither order nor necessity in life — no constraints, no inhibitions, no discomfort — life becomes both relaxing and boring." Here is her counterintuitive guide for teenage happiness.
Can Money Buy Happiness?
In The Pursuit of Happyness (2006), actor Will Smith portrays the story of a homeless man's search for happiness and success. The movie is based on the true story of Chris Gardner, a single father who is struggling to provide and care for his young son. One day Gardner is offered an unpaid internship as a stockbroker. Gardner jumps at the opportunity and eventually becomes a successful stockbroker, business owner, author, and public speaker. Donald Trump says 'The Pursuit of Happyness' is "an inspiring story of how an incredibly determined man made it to the big-time boardroom, and stayed there. It serves as a tremendous lesson in tenacity."
Did money make Chris Gardner happy? Or was it simply the pursuit of happiness — finding joy in the journey? The fact that Gardner had a definite purpose and clear goals is part of the happiness equation.
As the 'Happy' movie explains: "When money buys you out of the burdens of homelessness … it changes your happiness dramatically. But once you have basic needs met, more money doesn't seem to buy more happiness. The difference in happiness between the person who earns $5,000 and $50,000 is (fairly) dramatic. The difference in happiness between the person who earns $50,000 and $50 million is not dramatic."
In his book, Delivering Happiness, Tony Hsieh told the story of Zappos (the online shoe store), which he eventually sold to Amazon for $1.2 billion. Hsieh described the "history of my life in business… chasing profits and then figuring out that money alone isn't enough to bring happiness."
Sadly, Hsieh's life spiraled out of control, after he retired from Zappos and experimented with drugs and alcohol. He died in a fire at the age of 46 — a day after making plans to check into a rehabilitation clinic in Hawaii.
---
St. Augustine on True Happiness
We cannot therefore be certain that all men desire true happiness, because there are some who do not look for joy in you (God); and since to rejoice in you is the only true happiness, we must conclude that they do not desire true happiness.

True happiness is to rejoice in the truth, for to rejoice in the truth is to rejoice in you, O God, who are the Truth.

St. Augustine's Confessions, book 10, chapter 23
---
What the Bible Says About Finding Happiness
The Bible describes happiness as a byproduct of loving God. Jesus describes happiness and blessings in the Sermon on the Mount. (Blessedness = Happiness). Psalm 37:4 says: "Delight yourself in the LORD, and he will give you the desires of your heart." Ecclesiastes 7:14 (NIV) reminds us: "When times are good, be happy; but when times are bad, consider this: God has made the one as well as the other. Therefore, no one can discover anything about their future." Psalm 16:11 declares: "You make known to me the path of life; in your presence there is fullness of joy; at your right hand are pleasures forevermore."
When Jesus was born, the shepherds were terrified after seeing angels, but the angels told them: "Do not be afraid. I bring you good news that will cause great joy for all the people." (Luke 2:10)
Summary: Finding Happiness
The goal of life is to glorify God. We (human beings) were created so that God might communicate or impart happiness to us. Search for God wholeheartedly and you will be found by Him and happiness will be thrown in as a by-product. As we love God and our neighbor, we'll discover blessings, happiness and joy.
Sources, Resources and Related Links
More Happiness Resources
---
Originally published on December 12, 2020 – Updated on September 4, 2023