A video with feathers falling in slow motion.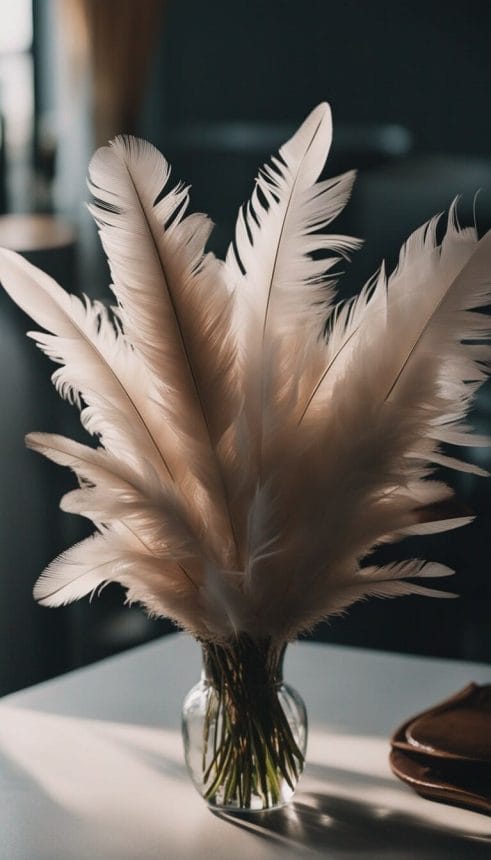 Feathers Falling
Emily Dickinson once said: "Hope is the thing with feathers, that perches in the soul, and sings the tune without the words, and never stops at all."
My art and stories fall silently like feathers, and few people actually see anything I create. Hopefully, my art and words will encourage a few people. Not long ago, people would write their stories and love letters with a feather quill. Before the days of social media, writing a letter to a dear friend was a labor of love.
"I am troubled, immeasurably by your eyes. I am struck by the feather of your soft reply." ~ Jim Morrison
Love Letters, Like Fuzzy Feathers Falling
Love letters, like
fuzzy feathers falling, and
forgotten dreams awakened
by sundial shadows across
the shifting sands of time.

Shadows are real as a dream,
and fuzzy memories echo
mysterious melodies
of Adam singing to Eve:

"You have ravished my heart, my sister, my bride;
You have ravished my heart with one glance of your eyes.
How sweet is your love, my sister my bride;
Much sweeter than honey, and better than wine."

Apostolic love letters, like
fuzzy feathers falling, are
gently, softly, sweetly calling,
me back to Eden's song,
with a golden promise,
and my name engraved
on a sealed invitation, for the
marriage supper of the Lamb.
Writing With A Feather Quill
Related Links