I'm currently researching evaluation criteria for websites. How do you evaluate websites? What are some good testing and scoring methods for evaluating the quality of websites?
Please note: This article is a work in progress. It's only 26% complete. See my other article: 10 Criteria to Evaluate a Website.
Some people consider only the aesthetics or beauty of a website. Others are only concerned with accuracy of the information on webpages. Since I've worked in the IT and web design/development industry for over 30 years I sometimes evaluate websites only from a technical viewpoint. However, my purpose here is to develop a more wholistic and well rounded set of evaluation criteria. Let's start with the criteria listed below and define, expand or simplify the evaluation criteria for websites. As I receive feedback and do more research, I will update and refine this document.
Searching for the Best Websites
On October 21, 2020 I performed a Google search for best websites 2020 award criteria and reviewed the first page of search results. The first item listed was interesting (but really disappointing after I clicked on the link.) "Each year the Web Marketing Association names the Best web sites in 96 industry categories as part of the annual WebAward competition." A snippet at the top of page said:
Best websites are selected by judging websites using seven criteria – design, ease of use, copywriting, interactivity, use of technology, innovation and content.

webaward.org
Do you see a problem here? What's the difference between 'content' and 'copywriting'? What's the definition of 'interactivity' as compared to 'ease of use'? Why do some people have 4 criteria, others have 5 or 6, and the Web Marketing Association has 7 criteria? It depends on their purpose and point of view.
On October 23, 2020 I asked Google to search for best websites 2020. I discovered an interesting article by Steve Benjamins on SiteBuilderReport. Steve's evaluation criteria were clearly stated up front: "This list reflects my taste — I prefer websites with strong typography, clear navigation and bold photography."
My Evaluation Criteria For Websites
What follows is 9 criteria for evaluating websites
Accessibility – WCAG 2.1 compliance
Beauty – Beauty is in the eye of the beholder. How do we evaluate it?
Content – captions, copywriting, data, descriptions, grammar, images, photos, stories, text, videos
Design – layout, mobile friendliness, navigation, responsive design, structure, typography, etc.
Performance – speed of webpage access on various devices from diverse geographic locations
Security – HTTPS, SSL, TLS 1.3, vulnerability analysis
SEO – search engine optimization
URL – Simple and intuitive URLs are best
Web Standards – proper use of HTML, CSS, and JavaScript according to W3C guidelines
---
Evaluating Website Accessibility
Accessible websites are inherently more usable, and consequently they get more traffic. Better user experiences result in lower bounce rates, higher conversions, and less negative feedback.
The Web Content Accessibility Guidelines (WCAG) are organized by four main principles, which state that content must be POUR: Perceivable, Operable, Understandable, and Robust. WCAG is the most-referenced set of standards in website accessibility lawsuits and is widely considered the best way to achieve accessibility.
Perceivable
Provide text alternatives for any non-text content so that it can be changed into other forms people need, such as large print, braille, speech, symbols or simpler language. Text should be adaptable for various screen sizes and layouts.
Operable
Keyboard accessible for users who can't use a mouse. Also allow for other input modalities and pointing devices. Provide enough time to read before content moves, and ways to help users navigate, and find content, without getting lost.
Understandable
Text content should be readable and easy to understand. Web pages should appear and operate in predictable ways. Help users avoid and correct mistakes – by providing input assistance.
Robust
Content must be robust enough that it can be interpreted reliably by a wide variety of user agents, browsers, screen readers, screen sizes and a variety of assistive technologies. As technologies and user agents evolve, the content should remain accessible.
See also https://www.w3.org/WAI/videos/standards-and-benefits/
---
Evaluating Website Beauty
Beauty has been defined as a combination of qualities, such as shape, color, or form, that pleases the aesthetic senses, especially the sight. Beauty provides a perceptual experience of attraction, pleasure or satisfaction.
While the observation of beauty can be subjective, mathematicians have used the golden ratio to explain beautiful architecture, art, and music. A beautiful website has balance, harmony, and symmetry.
Thomas Aquinas described the three conditions of beauty as: integritas (wholeness), consonantia (harmony and proportion), and claritas (a radiance and clarity that makes the form of a thing apparent to the mind).
Shelly Johnson explains: "True beauty is the state of being authentic and sincere in a way that extends love to yourself and others. It feels real, safe, alive, playful, flowing, authentic, life-giving … True beauty illuminates our entire being and empowers the light of everyone around us."
---
Evaluating Website Content
Some people evaluate website content from an academic perspective, while others evaluate content from an advertising and marketing perspective.
Jim Kapoun published an article in 1998 about website content evaluation listing 5 criteria:
Accuracy
Authority
Objectivity
Currency
Coverage
The CRAP Test, developed by Molly Beestrum, provides an easy to remember acronym for evaluating website content:
Currency
Reliability
Authority
Purpose/Point of View
---
Evaluating SEO Best Practices and SEO Performance
25 SEO Best Practices – see https://moz.com/how-to-rank
Important question: "Is the website optimized for keywords that will really move the needle?" It's cool that your webpage ranks #1 on SERP for "underwater basket weaving", but if you are selling "helicoil taperlock gages" how does basket weaving relate?
---
Website Testing Tools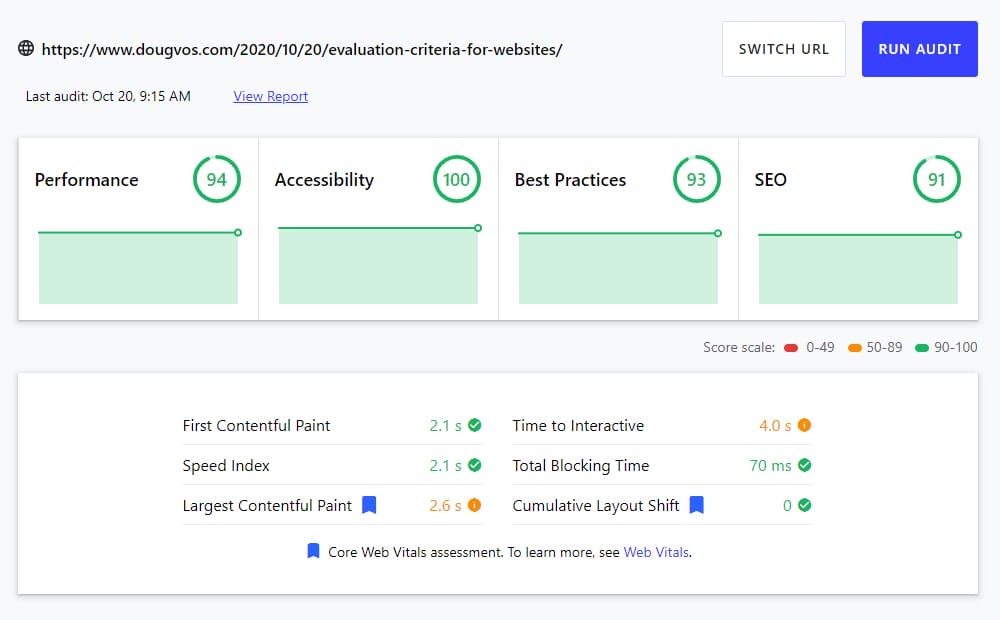 Summary of Website Evaluation Criteria
I'm not ready to summarize this material yet… I'm still doing research.
---
Related Links and Resources
See my new article: 10 Criteria to Evaluate a Website, published on 12-Aug-2023
Here's a raw list of my research links — not as formal as academic footnotes or a bibliography. Nonetheless, it's a helpful record of online resources I discovered and used in writing this article.
See Also
You might also enjoy reading my WordPress Cloudflare Notes — about performance optimization — and speeding up WordPress websites.
---
Originally published on 20-Oct-2020 / Last updated by Doug Vos on 21-July-2021