I'm evaluating a church website using my new evaluation criteria for websites. My assigned research topic is to write an article about the best church websites of 2020. I found an article entitled 'Top 100 Best Church Websites of 2020'. My next step is to evaluate the first website mentioned in this article by Reach Right Studios — the Good News Church of Omaha, Nebraska. The website URL is http://goodnews.church/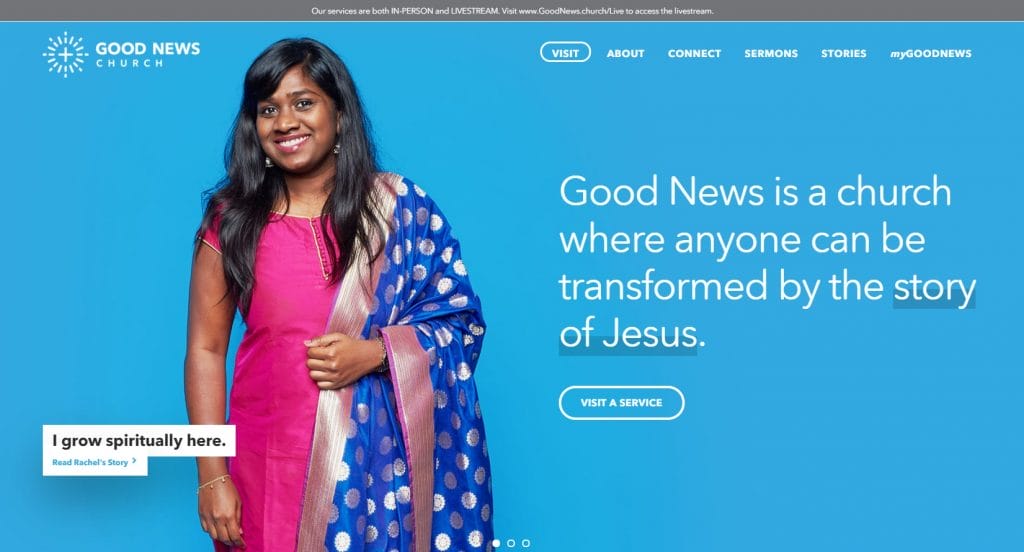 The first thing I noticed was the beautiful photography and bold messages on the homepage of this attractive website. The next thing I noticed was that this website is not secure. But let's not get ahead of ourselves. Let's follow a structured approach and go through this process step by step, carefully reviewing each of the criteria and recording our test results. I visited the Good News Church website several times during the last week of October 2020.
Please note: This article is only 45% complete, and will be completed as time allows.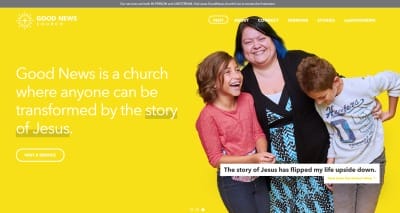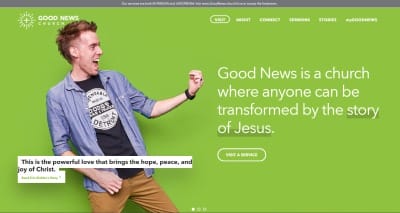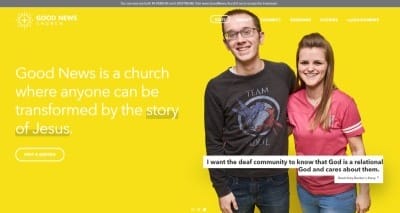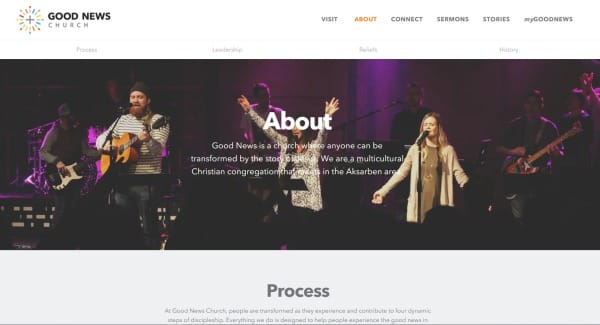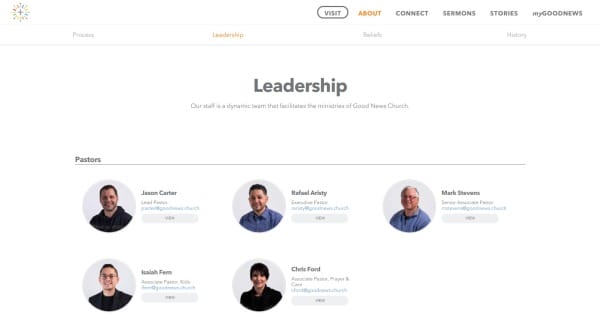 Disclaimer: This website might have changed since the time I evaluated it, so "your mileage may differ".
Website Evaluation Criteria
As stated above, I will use my new evaluation criteria for websites to guide this review process. The best possible score is 100% for each evaluation criteria.
Accessibility – 81%
Beauty – 95%
Content – 92%
Design – (not evaluated yet)
Performance – 66%
Security – 50%
SEO – 46%
Web Standards
---
Accessibility
Some people think that accessibility testing is only for situations where deaf and blind people might be accessing the website. Following WCAG guidelines is not just for big university and government websites. This website has over 80 errors on the homepage. Let's give Good News Church an accessibility score of 81%
White Letters On A Yellow Background – Do You See a Problem Here?
You don't have to be totally blind or have serious vision impairment to have trouble reading the content on some websites. The lighting conditions in my web design studio (or basement office) are nearly perfect, and I can read everything on this website. However, what about situations where sunlight is causing a glare on your laptop? Could there be a problem viewing these pages on your smart phone — sitting outside by the coffee shop on a sunny day? What about low lighting conditions? This website has accessibility issues.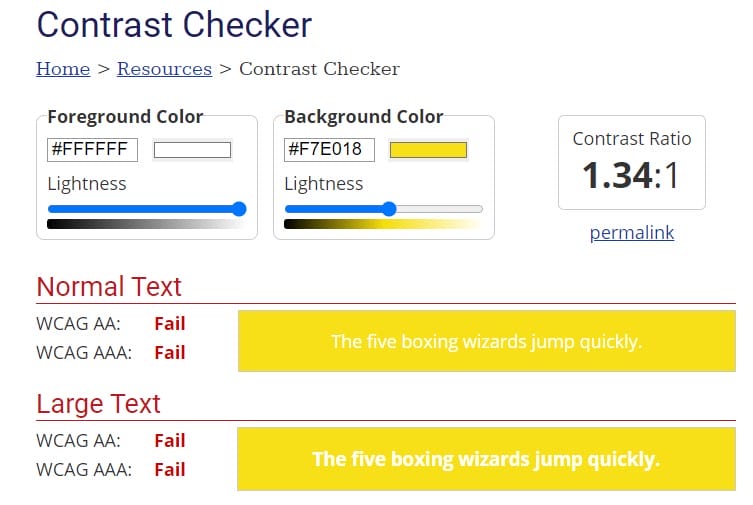 Test performed on 30-Oct-2020 via https://webaim.org/resources/contrastchecker/

On October 30, I visited the website again, and noticed a new splash screen with bright red background, and white lettering. So they might already be testing some new CSS on the homepage to resolve these contrast and accessibility issues. White letters on a yellow background don't work very well. White letters on a red, blue or green background work better. Perhaps they will adjust the homepage to place black letters on the yellow backgrounds for the homepage sliders.
---
Beauty
A lot of people will agree that this website is beautiful. It's use of bold colors, readable fonts, and great photography make the website very attractive. Let's give this website a score of 95% for aesthetics and beauty. It's said that 'beauty is in the eye of the beholder', and 'beauty is only skin deep'. We marked it down 5% because some content on the homepage and main menu was difficult to read (white text on yellow background – an accessibility issue documented above).
---
Content
Good News Church has an excellent content strategy. They focus on their core message: 'Good News is a church were anyone can be transformed by the story of Jesus.' Rather than imitating thousands of other church websites that feature images of their building, or photos of their pastor or church staff — Good News puts the focus on their people — the church members. The homepage features various testimonials of people 'transformed by the story of Jesus'. The composite content score is 92%. (276 points out of possible 300)
Here's how we scored it:
Quality photos on homepage – 100%
Over 300 words on homepage – 100%
Flesch Kincaid readability score – 75.9%
Webpage word counter found 524 words on the homepage. The WebFX readability tool found 617 words on the homepage, and gave it a score of 75.9 on the Flesch Kincaid readability test.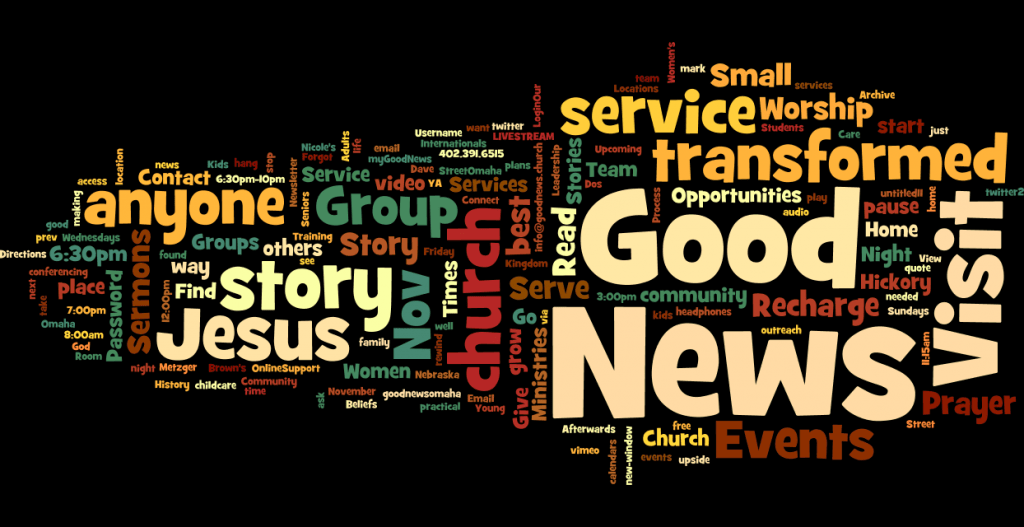 ---
Performance
Performance scores are based on how fast the web pages load. Let's take a look at a few speed tests using industry standard testing tools. The composite performance score is 66%. (265 points out of a possible 400)
Test results from https://web.dev/measure/ on October 24, 2020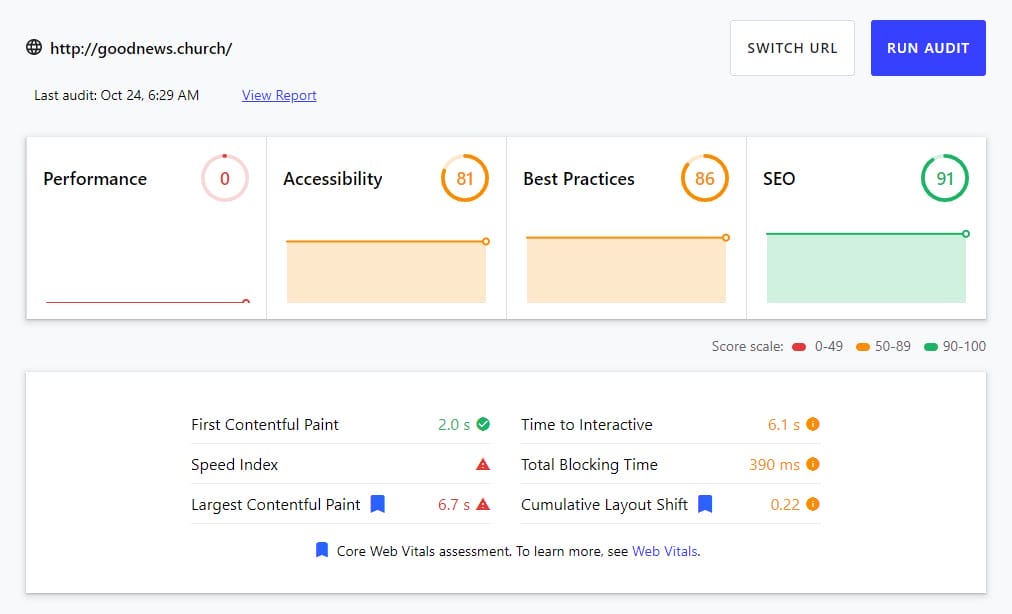 ---
Test results from GTMetrix – https://gtmetrix.com/reports/goodnews.church/cKzYoTTW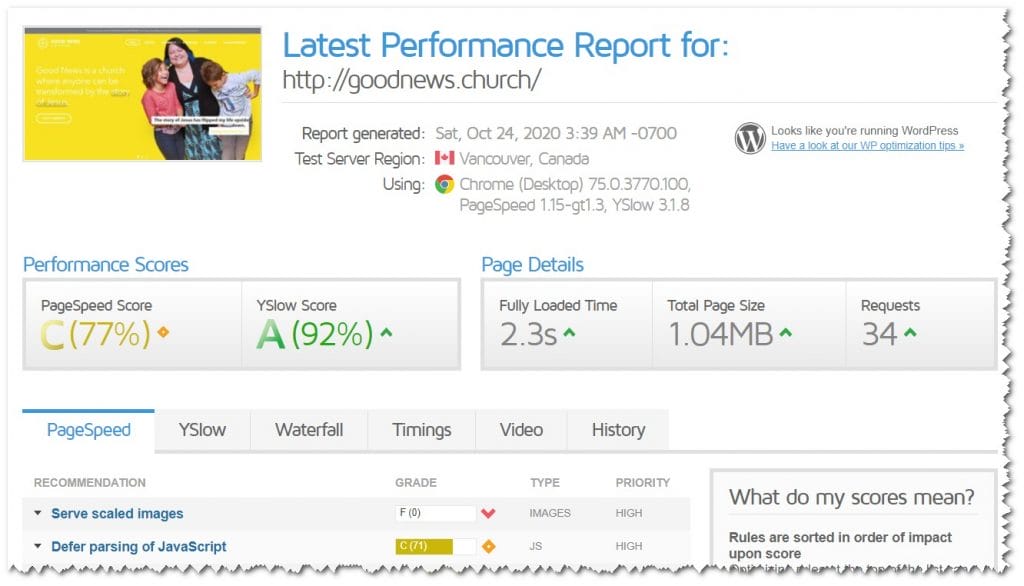 ---
Security
Good News gets a security score of 50 out of 100. The website is NOT running HTTPS, so it's not secure. On the positive side, however, it's running the latest release of WordPress (5.5.3) and is not infected with any malware.
Tested via https://sitecheck.sucuri.net/results/goodnews.church
---
SEO
Evaluating a church website while neglecting to check SEO would be a big mistake. (SEO is an acronym for search engine optimization). I'm looking at three tests for my SEO evaluation: Simple search results, Lighthouse score, and the results from Neil Patel's site auditing tool. The Good News overall SEO score is 46 out of 100.
For the simple search, I tried 'church in Omaha'. If a church shows up on the first 2 pages of Google search results – I could score it anywhere from 5 to 100. It takes a while to sift through the first 10 SERPs (search engine result pages). Most people only look at the first 2 or 3 pages.

The Lighthouse score (above). Good News Church scored 90 out of 100. That's good so far, but…
Searching for 'church in Omaha' – I reviewed the first 5 pages of SERPs and could not find Good News. Score = 0
On-Page SEO score from the Neil Patel site audit tool. Score = 47
The website scores 137 out of possible 300 points for SEO, giving us a score of 0.456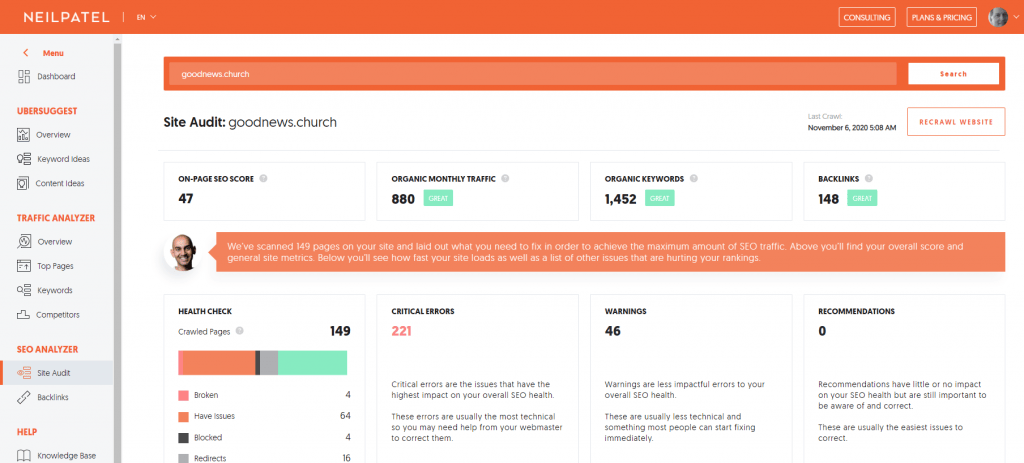 ---
Summary
Our evaluation is not complete, but so far this website has earned a score of 72%
Related Links and Resources
---
Originally published by Doug Vos on 30-Oct-2020 / Updated on 6-Nov-2020